After the amazing progress made with the roof in the first week of Jan we really didn't think they'd be able to provide us with any more surprises last week and our suspicions were confirmed when Adam drove over on Tuesday lunchtime to get some practice on his bike and there was no change and no-one on site - not a single tradie to be seen! Our first disappointment of the build...
We weren't even going to bother driving over to have a look on the weekend - we thought they must have been taking a break - but we needed to get some carpet quotations from around the area so we stopped by on Saturday morning and I swear we nearly had a car crash as we came round the corner and the house came into view - IT'S PAINTED!!!
Yep - between Tuesday afternoon and Saturday morning our wonderful, wonderful tradies had bagged and painted nearly the entire house - and my oh my it looks fantastic. They were actually there, working away on Saturday morning so we didn't stop for a look and as we drove away I remembered I had forgotten to bring the camera anyway.
The rest of the afternoon was spent in a state of shock - how can they have got so much done so quickly - and we wandered from carpet store to carpet store in the blazing summer heat trying to find a more reasonable quotation for carpet in our beautiful house.
On Sunday I persuaded Adam to drive back out there - he is a saint I tell you - and this time I remembered the camera. And here are the pics!
Hope you enjoy. The green preparation stuff under the paint really freaked me out at first but it seals the bricks and makes sure the paint sticks. Oh and we're really pleased with the colours we've chosen too - the cream colour that the main body of the house is in is really fresh and smart and the mushroom brown/grey which covers the feature balcony and columns in front of the garage looks excellent too!
Apparently they're hoping to get the roof on the back of the house on this week... more pics to follow!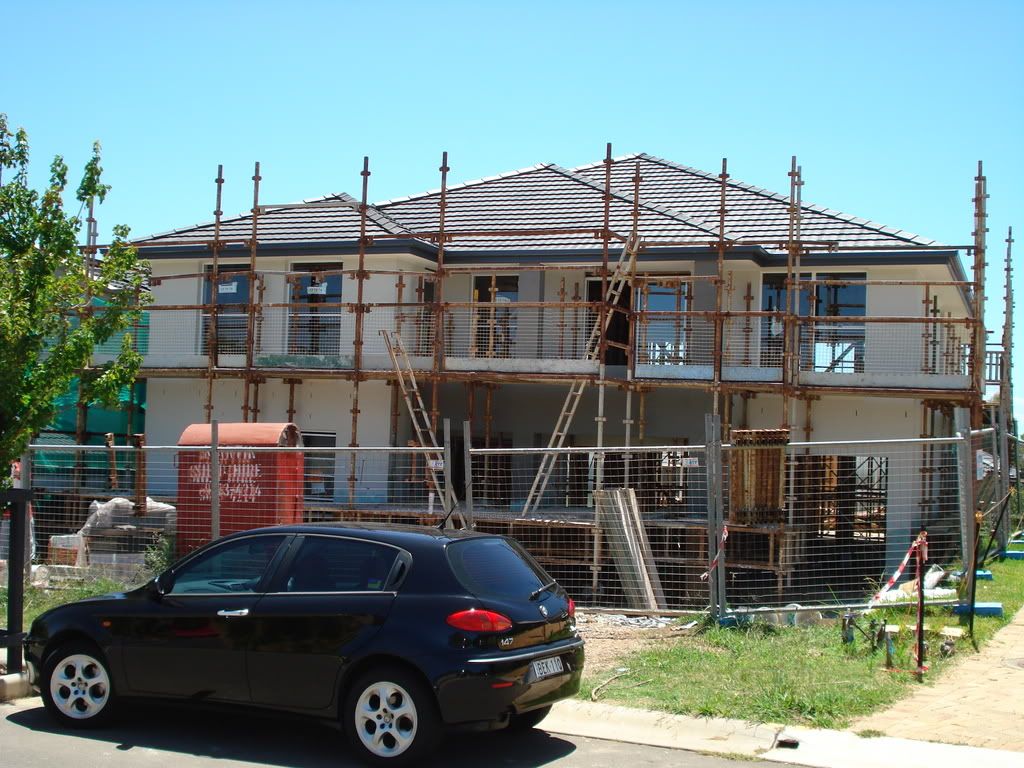 http://s464.photobucket.com/albums/rr7/adamandrosieoz/Bag%20and%20paint%20-%20Jan%2009/?start=20